Northern Region's Day 1 at the QJC
By Kim Schramm. Photos Toni van der Kreek.
The 2017 Queensland Junior Championships got underway at Nerang on the Gold Coast yesterday.  Overall there are 108 juniors participating at this year's State Titles:  70 Boys and 38 Girls.
Day 1 is often a mixture of byes and one-sided match ups.  There were 94 matches on the first day.
32 juniors from NR have made the long journey down to the Gold Coast: 13 from Cairns, 12 from Mackay, 5 from Ingham and 1 each from Innisfail and Townsville.
NR players experienced a number of wins but sadly, a number of our players suffered early losses.  This report will concentrate on the winners that are still alive in the main draw.
U9 Boys: Cairns's Michael Lawrence won his only match against Mackay's Quinn Douglas 11-3, 11-4, 11-1.  Lawrence looks set to reach the final in the 4-player round robin.
U11 Boys: Ingham's Liam Fascetti won both his matches in the 7-player round robin.  He beat Cairns's Francis Morove in a nail biter 11-8, 15-13, 5-11, 7-11, 11-8 before winning comfortably 11-5, 11-6, 11-1 against Brisbane's Jia Jay Sia.
U13 Boys: With 11 players competing for the U13B title there are 2 round robin pools.  Ingham's Lachlan Erba and Cairns's Josh Porter are in the same pool of 6 players.  Both boys won their first two matches.  Erba took care of Brisbane's Derrick Yu 11-2, 11-2, 11-0 and Nerang's Lachlan Craven 11-2, 11-3, 11-1 whilst Porter beat Sandgate's Morgan Roberts 11-9, 11-4, 11-6 and Derrick Yu 11-2, 11-1, 11-4.
U15 Boys: 23 players have lined up for the title and three NR players are into the Quarter finals.  Mackay's BJ MacDonald was clinical beating Sandgate's Zach Hilfstein 11-2, 11-1, 11-8 in the 2nd round after enjoying a 1st round bye.  Innisfail's Matthew Finitsis also enjoyed a 1st round bye before beating Mackay's Matthew Brazier 11-6, 11-8, 11-5 to set up a quarter final clash with Ingham's Jordan Di Bella.  Di Bella knocked out Cairns's Xavier Morzone 11-5, 11-8, 11-8.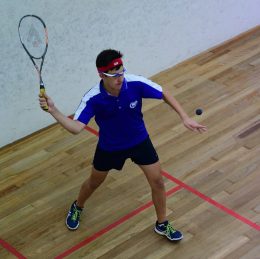 U17 Boys: The field of 25 has been reduced to 8.  Mackay's Wes Dyer and BJ MacDonald are safely through to the quarter finals.  After a 1st round bye Dyer proved too strong for Ingham's Jordan Di Bella winning their 2nd round match in straight 11-3, 11-6, 11-2.  MacDonald also took care of business beating Brisbane's Robert van der Kreek 11-3, 11-2, 11-5 in the 2nd round.
U19 Boys: Unfortunately, all our NR players were eliminated from the main draw in the 1st round.
U21 Boys: Ingham's Brody Di Bella had an impressive win against Gladstone's David Turner 11-6, 11-8, 11-9 to reach the semi finals in the 8 player draw.
U11 Girls: A round robin of 5 players will decide the title and Mackay's Kayce Hoani-Vincent is off to a flying start winning both her first two matches.  She had too many answers for Mackay's Sarah Brazier winning 11-3, 11-2, 11-5 before repeating the dose against Sandgate's Tara Davies 11-3, 11-2, 11-2.
U13 Girls: Cairns's Kiara Stubley had to fight back from being down 1 game to 2 to outlast Stafford's Charlotte Stephenson 7-11, 11-8, 10-12, 11-6, 11-7 in her only match up in the 7-player round robin.
U15 Girls: The late withdrawal of Mackay's Hayley Hankinson has diminished NR's chances of winning the U15 title but we still have two players in the main draw.  Cairns's Kurstyn Mather and Kiara Stubley are still proudly flying the NR flag in the 15-player draw.  Mather was too good for Rockhampton's Holly Orr winning 11-7, 11-2, 12-10 and Stubley outclassed Nerang's Mistie Underwood 11-6, 11-4, 11-2.
U17 Girls: Twelve girls are competing to win the U17 title and NR is in the mix with Ingham's Kaci Newman and Mackay's Danielle Hankinson winning their opening matches.  Newman was too classy for Gold Coast's Eva Point winning 11-2, 11-5, 11-2 whilst Hankinson had a tougher time getting past Rockhampton's Danielle James 12-14, 11-7, 11-5, 11-8.
U19 Girls: Mackay's Summer Palmer and Cairns's Courtney Mather enjoyed first round byes in the 10-player field.  Australian Junior Team representative Mather, then reached the semi final with a 11-1, 11-4, 11-4 trouncing of Wavell's Meaghan Wood.
U21 Girls: Only Mackay's Summer Palmer remains alive in the 4-player U21 round robin after Courtney Mather lost her match up against NT's Jessica Osborne in four.  Palmer is set to play Mather today.
The best performances on Day 1 belonged to Cairns's Kiara Stubley in the U13 girls, Ingham's Liam Fascetti in the U11 boys and Ingham's Brody Di Bella in the U21 boys.